My name is Genique and I'm 5, from Perth, Western Australia.
I enjoy the outdoors and going to the park with my family. At the park, daddy and I will kick the soccer ball, and afterwards I'll swing. I can swing on my own without help from daddy or mommy.
I'm a very active girl and will easily run circles around you :)
I give HUGE cuddles, especially to mommy and daddy.
But there's a problem
In March 2016 I was diagnosed with a brain tumor growing from the optic nerve. It's called a Pilocytic Astrocytoma, but I just call it my "mushroom".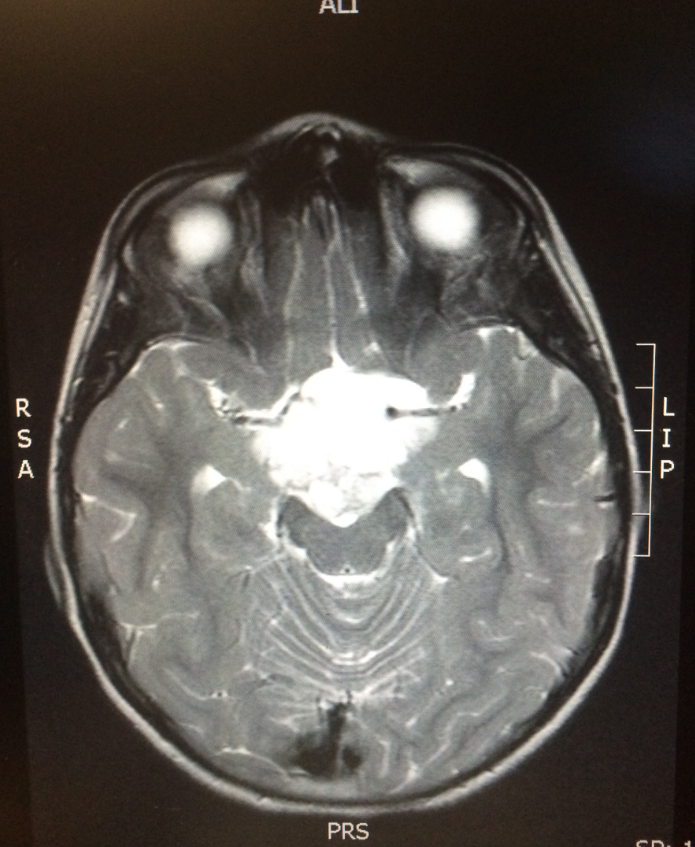 The tumor measures 43mm x 40mm X 33mm and restricts blood flow to my eyes. This caused me severe vision loss. I am no longer able to see a beautiful rainbow or kick the ball with daddy like I used to. I can no longer keep up with my friends on the playground. I lost my confidence on the monkey bars and swinging on my own. It is also harder to put on shoes and doing my shirt's buttons. In time I will get better at this :)
The tumor is very close to other important structures in my brain and the doctors were, and still is, very concerned. Doctors advised removing the tumor immediately.
I had a six hour brain surgery and in the end, they could not remove my "mushroom" because of the risks in causing blindness :(
I started my journey with chemotherapy at the end of March 2016.
It makes me really sick, and I'm looking forward to the day I don't need chemo anymore. I also want to grow my hair again as we all know that chemo "eats" your hair. The chemo is also causing me hearing loss and I have difficulty walking.
Everything hurts all the time :(
There is also the risk of developing cancer in other parts of my body.
Doctors advised chemo is there to keep the tumor from growing any bigger but won't shrink it.
I'm stuck with my "mushroom" for the rest of my life.
The good news…
Mommy and daddy learned about a surgeon, Prof. Charlie Teo, in Sydney.
Prof. Charlie and his team investigated my condition and are able to help me. We are all very excited!
Unfortunately, it means another surgery but it will improve my vision and might stop the chemo.
Life without chemo means no more needles every Wednesday. My hair can grow long, and I will be able to run around with my friends again.
Before the surgery mommy and daddy have to pay a considerable amount.
You can help
The doctors need $45 000 before the surgery.
This amount sounds big, but how does one eat an elephant? Bite for bite.
If we all give something we will hit the target in no time.
This is my chance at a "normal" life and you can be a part of it.
Could you please be so kind and donate?
Much appreciated,
Genique and family :)